Reopens 3 - 19 December 2020
Cornelia Parker
Through a Glass Darkly
Cornelia Parker, one of Britain's most acclaimed contemporary artists, will unveil a major new body of prints at Cristea Roberts Gallery.
Cornelia Parker, who transforms the ordinary into the extraordinary, uses printmaking to produce something elusive and ephemeral. Director Alan Cristea comments; "Parker's new body of work, on which she has been working through the pandemic, is aptly called Through a Glass Darkly, the words of St Paul which suggest an obscure vision of reality. What we can't see clearly now will eventually become evident and the artist has indeed presented us with a world of domestic objects and flora in the first stages of emergence from a ghostly past. She has breathed life into dead flowers and animated glassware as they struggle to shed their shadows." Over 25 new works will appear for the first time in Through a Glass Darkly. The subject matter of these new works includes salt cellars; sugar bowls; medicine bottles; carafes; glassware; thistles, gerbera with decapitated heads and crushed forget-me-nots.
To make these prints Parker uses the photogravure process. Inspired by nineteenth-century photography pioneer William Fox Talbots' first photographic images, Parker uses the objects and flowers to cast shadows onto a chemically coated plate, exposing them to ultra-violet light, so that they act as a photographic positive. The ultraviolet light is cast, for varying lengths of time, at oblique angles over and through the objects, transforming the once familiar item into something very unfamiliar.
The photogravure process is part of Parker's career long fascination with taking the recognisable, and pushing it to a point of abstraction. This slow, contemplative method of printing creates an effect on some of the monochrome prints that is almost painterly, as items blur in and out of focus. Mysterious and unusual shadows appear, wine glass stems appear to evaporate (Nightfall, 2020), a glass jug overlaying a large glass negative of a coffeepot becomes trompe oeil, as the silver pot now appears to sit within a jug (Here and There and Now and Then, 2020), and two glasses and a carafe filled with red wine become a dark abstract composition (Eclipse, 2020).
Parker also plays with dualities. In this exhibition she revisits the subject of a 2016 work entitled, Coffee Pot Hit by a Monkey Wrench, a photogravure of a glass photographic negative of an antique silver coffee pot that Parker smashed with a monkey wrench. Parker has sellotaped the smashed photographic negative back together to make a new print called Coffee Pot Hit by a Monkey Wrench (repaired), 2020. A line of empty glass medicine bottles is pictured in Still Life (Sans Medicine), 2020. For a corresponding print, entitled Still Life (Verso), 2020, Parker captures the shadows of the labels by turning the bottles over. Parker reactivates these objects to create spectral still lives.
If you would like to receive a preview of the new body of prints, including the works described above, please contact the gallery via [email protected].
Reopening 3 December 2020
Following the lifting of government restrictions, we are delighted to reopen the gallery on Thursday 3 December 2020, providing you with another opportunity to view Cornelia Parker: Through a Glass Darkly before it closes on Saturday 19 December 2020.
All visitors are required to make an appointment prior to their arrival. Click here to book your free ticket or email [email protected] if you would prefer to speak to a member of staff.
We look forward to welcoming you to the gallery as we continue to adapt our working practices to suit the current climate.
If you would like to receive an illustrated list of the complete new body of prints, including those above, please contact the gallery via
[email protected]
Podcast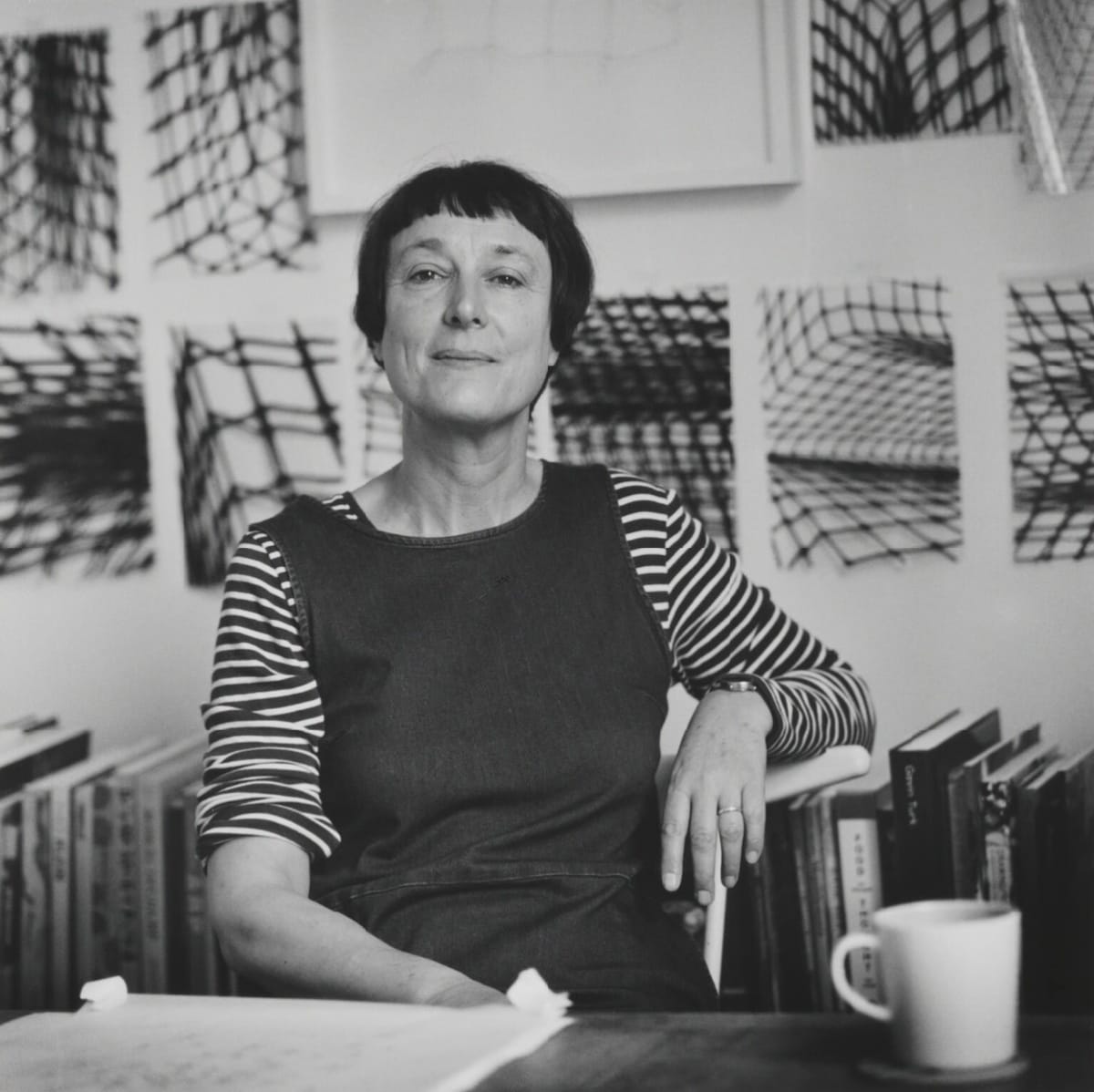 Cornelia Parker on The Great Women Artists Podcast
Cornelia Parker talks to the curator and art historian Katy Hessel who also runs the @thegreatwomenartists Instagram profile. In this episode they discuss Parker's new prints; how they are made; the meaning of her titles; and how her printmaking practice has developed since her last major print show at Cristea Roberts Gallery in 2015.

Parker also discusses her beginnings and early life in Cheshire and her use of unconventional found objects and materials, including seminal works, such as Cold Dark Matter: An Exploded View, 1991 and Transitional Object (PsychoBarn), 2016.

Click here to listen or search 'The Great Women Artists' on iTunes, Spotify or your favourite podcast platform.
Image: Cornelia Parker, 2014, by Anne-Katrin Purkiss. Collection of the National Portrait Gallery.