8 January - 19 February 2021
Richard Hamilton: Towards a Definitive Statement
Online Exhibition
We are delighted to launch our online exhibition, Richard Hamilton: Towards a Definitive Statement.
"Richard Hamilton: Towards a Definitive Statement is a major retrospective celebrating arguably the most influential British artist of his generation, Richard Hamilton (1922 – 2011), which was due to open in our gallery in early January 2021 but can now be seen online only; it coincides with the publication of a new book by Michael Bracewell that provides a fresh interpretation of an artist whose achievements and legacy remain unmatched.
Over the next few weeks we will provide an insight into Hamilton's creative process and his breadth of visual experimentation through a weekly In Focus series exploring the core themes and subjects that underpinned his work for over 60 years. We begin with Defining Pop, which delves into Hamilton's relationship to pop art, a term he first coined in the mid 1950s. This includes a screening of a documentary made in 1991 with Richard Hamilton and his former student, the musician Bryan Ferry.
The In Focus series will comprise further film content, a closer look at Michael Bracewell's new book Modern World: The Art of Richard Hamilton, and the launch of the first episode of our new podcast series. Spotlighted themes include artworks that address political subjects, explore interiors and portraiture, and Hamilton's fusion of art and technology.
I first met Richard Hamilton in 1974 and went on to work closely with him for over thirty years. He was relatively neglected from the early 1970s through the late 1980s only emerging as an artist of immense significance in the Postmodernist period (and he himself remained uninterested in the laissez-faire ethos of Postmodernism). His work was far too for cerebral for it ever to prove 'popular', with the extraordinary scope of his interests and accomplishments acting as a deterrent to broad acceptance. This never bothered him at all. He had the courage of his convictions and an unshakeable confidence in his own beliefs. He was a perfectionist and refused ever to compromise. He was delightfully disdainful of the art market and quite ready to expound on the venality of dealers and auction houses alike. He never signed a contract with any gallery and insisted on complete control of the occasional sale of his unique works to museums and to a very few collectors who he considered to be friends and supporters.
Fortunately for me he never saw me as a dealer at all but as a friend and admirer who could facilitate the distribution of his prints to a wider audience. The rules were straightforward. From the moment we started working together in the late 1970s I did exactly what he said at all times and I was happy to do so because I knew that I was acting for a truly exceptional artist and human being. I remained in awe of his intellect. My core speciality has always been the publishing of original prints and I have worked with some exceptional printmakers over the past 50 years, but I have never worked with any artist who could master all available print media to such perfection.
Over the years I mounted numerous exhibitions by Richard, but never envisaged doing so online. We hope that this will bring you a little solace and pleasure in these days of self-isolation. If you have any questions, we would love to hear from you. We are all working remotely from home and we would be happy to supply you with more information about the artist and his work." Alan Cristea
If you would like information about all available Richard Hamilton works, please contact us directly via [email protected].
Image above: Richard Hamilton at home in Northend, Oxfordshire, c.2006 © 2020 the Estate of Richard Hamilton
Podcast
Episode 1: Richard Hamilton
The first episode of our new podcast series Making a Mark explores the work of Richard Hamilton. Michael Bracewell, cultural critic and writer and the author of Mode…
In Focus | In Three Dimensions
"A medium need not sit in isolated purity." Richard Hamilton
Richard Hamilton's interest in contemporary mechanical processes was manifest throughout his artistic career, as was his use of found subject matter such as advertisements, commercial signs and trade logos, in fact any visual manifestation of a consumer society. Presented above are six multiples by Hamilton, all referencing the Duchampian tradition of the readymade, all commenting on contemporary sub-culture and all incorporating means more associated with mass production.
Five Tyres remoulded is truly ground-breaking in as much as it is the first demonstration of computer generated imagery in the service of art. Created in 1971, it was a return to an abandoned project of 1964. The portfolio features the embossed profiles of five different tyres, and seven screenprints of computer-generated drawings showing several aspects of the tyres perspectives. A text included in the portfolio documents the successive development of tyres from 1902 to 1950. The image was derived from one of five car tyres of which he had found illustrations in the magazine Technique et Archictecture twenty years earlier.
Solomon R Guggenheim (Metalflake and Silver/Gunmetal), 1976, is one of approximately eighteen unique versions of a vacuum-formed Perspex relief by Hamilton based on Frank Lloyd Wright's spiral design for the Guggenheim Museum in New York. Hamilton was initially inspired by coloured postcards of the museum, this leading to a study of photographs of the buildings along with the architect's plans before making his own preparatory sketches, prints and reliefs. The unique relief is displayed together with Guggenheim (black), 1970, an earlier editioned work on the same subject.
Ashtray, 1979 and Carafe, 1979, are from a group of multiples and prints that Hamilton made whilst in Cadaqués, Spain, where he had bought a house. At first glance the ashtray and water carafe appear to carry the iconic logo of the pastis drink made by Ricard, a well- recognised brand in cafés throughout the countries bordering the Mediterannean. However, Hamilton expropriated the logo, adding an 'h' before the 'a' to spell his name. His explorations into design as an integral manifestation of the consumer society and his analysis of commercial styling and advertising had begun when he first became a member of the Independent Group way back in the 1950s and were maintained throughout his life..
He applies this same scrutiny to Braun design in his edition, The critic laughs, 1971–2, which features the white barrel of an electric tooth-brush derived from a Braun model on which a plastic cast of an upper denture has been positioned in place of a brush head. The work is completed with its own Braun-style packaging. The plastic cast was modelled on sugar pink confectionery teeth, often found in British seaside towns at the time. The work draws parallels to the work of Marcel Duchamp but also references his American contemporary, Jasper Johns. Hamilton commented, "This conjunction immediately reminded me of Jasper Johns' 'sculpmetal' toothbrush which carries molars instead of bristles. His title 'The critic smiles' seemed too mild for the grotesque shudder of electronically animated teeth."
Hamilton's investigation into the ready-made found object was part of his insistence that his artwork simply reflects society, describing "my purpose as a search for what is epic in everyday objects and everyday attitudes."
If you would like information about all available Richard Hamilton works, please contact us directly via [email protected].
Langlands & Bell on Richard Hamilton
"We've often looked at Five Tyres Remoulded by Hamilton and always liked it. We have a lot of respect for his approach and admire his works of social observation like the Kent State series, or his three diptychs about the conflict in Northern Ireland: The citizen, The subject, The state. What was also so interesting about him, something we relate to very strongly, is that he didn't really acknowledge boundaries between design, art and architecture. To him aesthetic disciplines were a unity. He also loved new technology, he loved the physical beauty of it, just using it, and the promise it holds.
With our work Infinite Loop we were formally inspired by Five Tyres Remoulded and simultaneously highlighting an awareness, a thread, an affinity connecting the sleek design ethos of Apple's products and Norman Foster's new Apple Park, with Hamilton's critical socio-aesthetic vision of design and technology - as also evidenced in his seminal definition of Pop (art) to Alison and Peter Smithson in January 1957 - which could almost equally apply to today's world of high-tech consumables..."
Langlands & Bell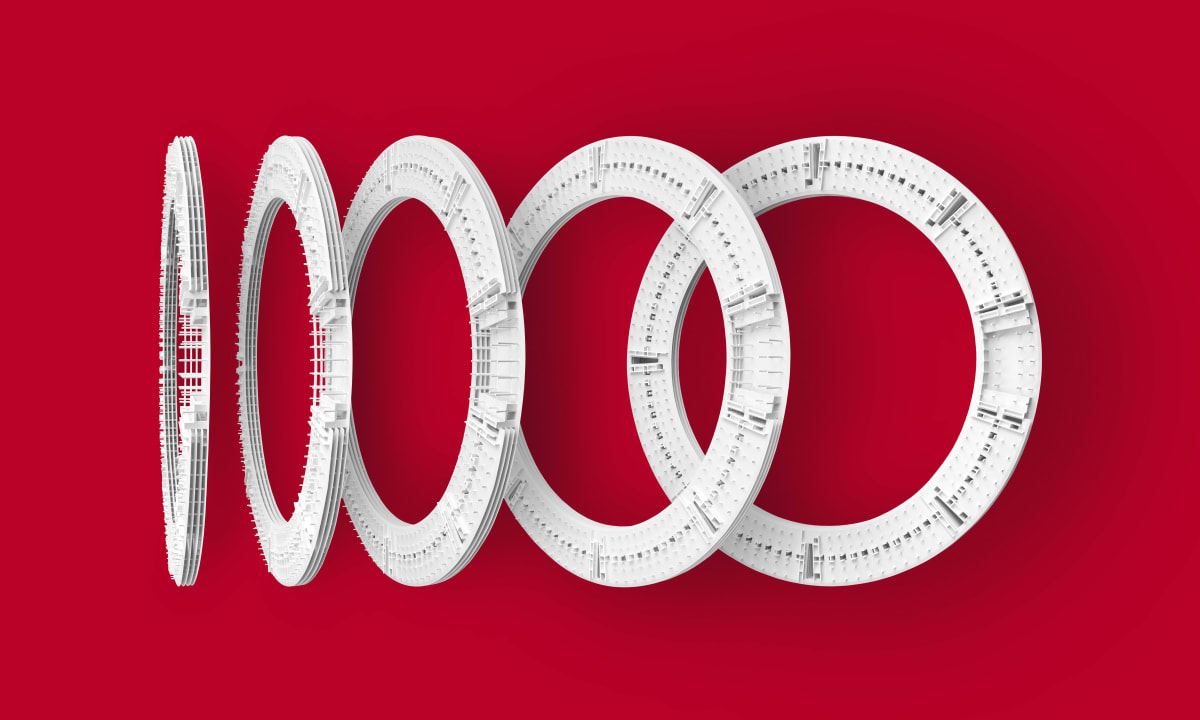 Langlands & Bell
Infinite Loop
From Infinite Loop, 2016
Archival inkjet on 310gsm Hahnemühle Photo Rag Bright White paper
in four colour variants (cream / pale blue / green / red)
Paper and image 87.0 x 145.0 cm each
Each colour variant in an edition of 15
In Focus | The Printed Portrait
"Perhaps the most telling thing about mirrors is that they inevitably touch the ego – the myth of the Narcissus says something about a particular psychological condition, but it also refers to the peculiarity or everybody's relationship to reflection; we all react to our own appearance every time we see ourselves." Richard Hamilton
Richard Hamilton's portraits were rarely limited to a single image. An early adopter of computer programmes and of ground-breaking technology in general, the complex works illustrated below highlight the layered way in which Hamilton's portraits used different artistic media.
Hamilton was first introduced to the Polaroid camera on a visit to Roy Lichtenstein's studio in New York in March, 1968, when the American artist took his picture and immediately handed Hamilton the resulting photograph. Fascinated by the possibilities of this spontaneous print, Hamilton purchased his own Polaroid Camera and began to ask artist friends to take pictures of him. From 1968 to 2001 Hamilton amassed 128 portraits that were published in small volumes. A Portrait of the Artist by Francis Bacon, 1970-71, is based on a Polaroid of Hamilton that Francis Bacon took in 1969. Alan Cristea comments, "Hamilton was particularly intrigued by Francis Bacon's photograph because it seemed to echo Bacon's painting style and so he developed it into an ironic self-portrait."
In 1993 Hamilton asked artist and filmmaker Derek Jarman to photograph him for his Polaroid Portraits. Before the picture was taken Hamilton first photographed Jarman to set the camera's focus. Jarman died only weeks later from an AIDS related illness, and Hamilton revisited the test Polaroid placing Jarman's blurred head against the backdrop of his last painting. As a tribute, all editions of the print, entitled Derek Jarman, 1996-97, were sold to benefit the Elton John AIDS Foundation. Hamilton's Portrait of Dieter Roth, 1998, was also a tribute to the recently deceased artist, with whom he had collaborated since the 1970s. To capture Roth's complex personality, Hamilton layered several portrait photographs, adding three floating eyes to Roth's face.
Palindrome, 1974, was created by Hamilton especially for a group portfolio of prints by different artists on the theme of Mirrors of the Mind. In this self-portrait Hamilton recreates the illusion of touching the surface of a mirror, which results in the simultaneous views of the back of his extended hand and arm and the front of his face and body. This optical illusion increases the perception of depth beyond the plane. An earlier screenprinted work, entitled Self Portrait, 1967, was made using nineteen stencils, and is an example of Hamilton's early use of material sourced from popular media such as magazines, postcards and film stills.
The final image in this selection is a digital print entitled Marconi and Son, 1998, featuring Italian gallerist Giorgio Marconi and his son. The print is based on a photograph Hamilton took of the two men in the lobby of their hotel in northern Italy. Hamilton enlarged the small-format image to a large scale in preparation for a painting, which amplified the photo's grainy texture. Through digital manipulation Hamilton further exaggerated the architecture of the room by creating flat planes that also echo the colours of Italy's flag.
If you would like information about all available Richard Hamilton works, please contact us directly via [email protected].
Film: Richard Hamilton in the reflection of Marcel Duchamp
Film: Richard Hamilton in the reflection of Marcel Duchamp
This film is no longer available to view.
A film by Pascal Goblot that explores an exceptional relationship between two influential figures of contemporary art.
Richard Hamilton devoted his life to the work of another major artist, Marcel Duchamp, the inventor of ready-made. An enigmatic, strange work, possibly one of the most complex works in the history of twentieth-century art, lies at the core of this unique dialogue: The Bride Stripped Bare by Her Bachelors, 1915 - 23 by Duchamp, also known as The Large Glass. Hamilton looked into every detail of this work reconstructing it, using Duchamp's notes and diagrams in 1965 - 66. Based on unpublished interviews, this film by Pascal Goblot, video artist and documentary filmmaker, explores the exceptional relationship between two influential figures of contemporary art. Click here to find out more about the film.
In Focus | Interior Space
"Every man-made interior space has its own interest: banal or beautiful, exquisite or sordid each says a lot about its owner and something about humanity in general. They can be dreary or warm and touching, on occasion, inspiring; all tell a story and the narrative can be enthralling; some even give us a little lesson in art appreciation." Richard Hamilton
Richard Hamilton's involvement with the domestic interior theme began in the 1950s with a collage entitled Just what is it that makes today's homes so different, so appealing? originally made for the This is Tomorrow exhibition in 1956 at the Whitechapel Art Gallery in London. It is his most iconic and most frequently reproduced image in which the word 'pop' first appeared, lending itself to a whole art movement.
In 1992 Hamilton returned to the image of this collage to make, Just what was it that made yesterday's homes so different so appealing?. In the 1980's Hamilton began using digital image processing equipment to make his works. Whilst experimenting with a Quantel Paintbox he did some restoration work on the 1956 collage. He liked the outcome so much that he made a small edition of the print, slightly updating the title.
Two years after this Hamilton made a completely updated version of the original 1956 collage, producing an edition entitled Just what is it that makes today's homes so different?, 1994. This print provided Hamilton with an opportunity to assess how life had changed since the 1950s. Elements that satirise the world of the original collage and contemporary culture in relation to it, fill the interior space which is based on a postcard of a Spanish hotel bedroom that had been sent to him.
Hamilton's final reference to the pivotal 1956 Whitechapel Art Gallery exhibition is seen in TiT, 2002, an acronym for 'This is Tomorrow.' For this group exhibition Hamilton was one of several artists invited to create an installation that accorded with their vision of the future. This print depicts a passage through Hamilton's installation. He achieves this view with screenprinting, a medium he had not used for several years. This complex print uses thirty separate stencils for the thirty separately applied colours in the image.
Whilst Hamilton's earlier collages used material sourced from magazines, postcards and film stills, in the 1970s the artist developed the habit of photographing fragments of interiors without any specific purpose in mind. Some of these found their way into his work. The subject of Berlin Interior, 1979, was initially collaged from photographs taken in art dealer René Block's Berlin apartment. Interior with Monochromes and its companion print, Putting on de Stijl, both from 1979, are also collaged from similar found material whilst referencing European abstraction in the form of the de Stijl movement and the Dutch designer, Gerrit Rietveld, in particular.
If you would like information about all available Richard Hamilton works, please contact us directly via [email protected].
Below artist Paul Winstanley reflects on his personal relationship to Hamilton's work, in particular his interior spaces.
Paul Winstanley on Richard Hamilton
"Over several decades, Richard Hamilton's multi-faceted and complex work engaged with a changing world, and with the language to deal with that, on many different levels. He never had a career length dedicated critic, able to create a coherent narrative for his output as some other artists had and have, so it feels as if his work is still lying around, in largely disconnected chunks, waiting for this process to begin. However this allows for an artist like me to have a personal relationship to his work formed from my own imperatives rather than from a given historical narrative. I like to make a thread of connection, running from a piece made in the late 50's, An Exhibit, 1957, via the collaged interiors of the 50's and 60's, the great painting Lobby of 1988 to the series of domestic interiors of the mid 90's pictured hanging within the gallery.
The beginning and end of this thread both deal with the gallery and it's relationship to the viewer. An Exhibit, 1957, an installation of semi-transparent, semi reflective coloured panels suspended within the gallery space, places the viewer and the viewing experience at the centre of the work. The viewer becomes the subject. In the later works, such as Bathroom, 1994-95, the domestic interior is re-pictured hanging within the space of the d'Offay Gallery, looking like an installation shot rather than a finished work and, again, upsetting expectations of both time and place. Both pieces use the interior as a bridge to what might be called the 'meta' of art with their self referencing, self reflection and pursuit of self awareness in the viewer.
These strategies find an echo in aspects of my own work, from the TV Room paintings of the early 90's to The Viewers an on-going series of today. Hamilton remains relevant, remains an important lodestar. His work is often difficult but his reputation can only grow."
In Focus | Embracing Digital
"Digital image creation requires a new mindset. Photography, scanning and a transformed concept of collage are the tools that the new technology offers. This is no betrayal of an old love." Richard Hamilton
In 1971 Richard Hamilton used a computer programme to achieve an editioned artwork in the form of the Five Tyres Remoulded portfolio of prints. From then on the artist went on to consistently include in the evolving processes of digital printing and its relationship to photography in his prints. In his later works he fully explored and demonstrated the creative potential of the computer
Hamilton participated in a series of programmes made in 1987 for the BBC that revealed to him the burgeoning potential of the computer to manipulate and generate imagery. Six artists were invited to contribute to a series called Painting with Light. The 'Paintbox' computer, developed by the British company Quantel, meant artists could create the effect of loose brushwork on a digital image. This is particularly evident in The marriage, 1998, a print developed from a faded photograph Hamilton had chanced upon decades earlier.
Hamilton owned and operated a Quantel Paintbox and a later model called Printbox. Although most of his later works incorporated the use of this digital image processing equipment, Hamilton frequently reinvigorated the sometimes clinical, artificial or gaudy aspect of photographic images that he described as "pleading for a touch of impasto to give them life". Self-portrait with red, 1998, sees Hamilton capturing his portrait, shot with a polaroid camera through a sheet of glass and then painted with coloured brushstrokes.
Although Hamilton consistently adapted his method of making, his choice of subject matter, such as interiors and portraiture, remained. Several of his later works include references to his earlier paintings and prints; the theme of the figure vacuuming in Hamilton's 1956 collage Just what is it that make's today's homes so different, so appealing? reappears from time to time in his Interiors and finds its ultimate culmination in his 2004 print Chiara and Chair. The annunciation, 2005, is a direct response to Fra Angelico's great Annunciation fresco in the corridor of the San Marco monastery in Florence. Hamilton updates the themes for his own version. Alan Cristea comments, "Although the inspiration comes from Fra Angelico's early fifteenth-century murals this is a very contemporary annunciation created on a computer and with the message about the forthcoming birth being delivered by telephone rather than by the angel Gabriel."
A mirrorical return, 1998, is a digital collage made by layering several images. The work is in part a tribute to Marcel Duchamp. The woman reading is seen reflected in a fragment of Duchamp's The Bride Stripped Bare by Her Bachelors, Even (The Large Glass), 1915–23, a work Hamilton reconstructed for Duchamp's retrospective at Tate in 1966. The title of the print is also a reference to a term Duchamp used in a note for the Large Glass, describing elements that were to have travelled 'mirrorically' from one part of the composition to another.
The final print of this selection, Beatles, 2007, is a highly sophisticated digital reinterpretation of the folded collage sold within the Beatles 'White' album which had been designed by Hamilton in 1968. Hamilton worked closely with Paul McCartney to design the package of the album, which included a poster made up of personal photographs the Beatles gave to Hamilton. This edition, printed entirely in Hamilton's studio at his home in Oxfordshire, was his last print.
If you would like information about all available Richard Hamilton works, please contact us directly via [email protected].
In Focus | Politics: Modern Moral Matters
International politics, riots, terrorist acts and war, permeated the work of Richard Hamilton throughout his lifetime. He often transformed source material to examine how these conflicts were represented and communicated by the media.
"Political or moral motivation is hard to handle for an artist." Richard Hamilton
In the 1980s Hamilton created a body of work about The Troubles in Northern Ireland. He made three diptych paintings portraying an Irish Republican prisoner - a 'no wash' protester, at the Maze Prison - a parading loyalist Orangeman and a British soldier on patrol. The citizen, 1985, and The orangeman, 1990, illustrated below, are related prints. The citizen, both the painting and the dye-transfer print, are based on stills selected from footage of an Irish Republican prisoner, on hunger strike and 'no wash' protest in the H block. Hamilton was struck by his resemblance to images of Christian martyrs. Drawing parallels with classic history painting, the depiction of the protester's suffering and the appearance of his dishevelled hair and beard make comparisons to the subject of Jesus Christ unavoidable. The title The citizen is taken from an episode of James Joyce's Ulysses, where the same portrait appears in Hamilton's Finn McCool, 1983. Cristea explains, "Hamilton's interest in the political situation in Ireland and his life-long engagement with Joyce merge as Raymond Pius McCartney, an IRA 'no wash' protester in the Maze prison is transmogrified into Joyce's mythical Finn McCool, in Hamilton's illustration to the Cyclops episode of Ulysses."
In 2008 Hamilton created a two-faced medal depicting former prime minister Tony Blair on one side and his then press secretary, Alistair Campbell, on the reverse. Entitled Medal of Dishonour, 2008, the cast bronze edition was commissioned for an exhibition at the British Museum featuring medals that condemn, rather than celebrate, their subjects. The medal refers to the investigation of Blair and Campbell as part of The Hutton Inquiry, a judicial inquiry into the circumstances surrounding the death of a former UN weapons inspector.
Decades earlier Hamilton had created a portrait of Leader of the Labour Party, Hugh Gaitskell, using an enlarged newspaper photograph of Gaitskell and cut out imagery of fictional monsters from the magazine Famous Monsters of Filmland. Hamilton, an advocate of nuclear disarmament, made the work as a critique of Gaitskell's support of a nuclear deterrent. He produced a painting and several sketches of the subject, before revisiting it in 1982 to make the final illustrated print, Hugh Gaitskell as a Famous Monster of Filmland (1963), a combination of collotype and screenprint.
Hamilton's interest in creating multiple manifestations of the same compelling image form part of his investigation into the often oversimplified and distorted montages of political events as presented by television and in the press. This exploration of imagery is an important part of Kent State, 1970, a print made by Hamilton after watching reports of a student protester shot by police at Kent State University, Ohio, in 1970.
Click below to read an extract, with additional imagery, from Michael Bracewell's book Modern World: The Art of Richard Hamilton, that explores the artistic and technical processes used by Hamilton to make Kent State.
If you would like information about all available Richard Hamilton works, please contact us directly via [email protected].
Book excerpt | Modern World: The Art of Richard Hamilton
This film is no longer available to view.
This is Tomorrow, a documentary made in 1991, explores the work of Richard Hamilton and his former student, the musician Bryan Ferry. Interviews with both Hamilton and Ferry are seen alongside contributions from musician Paul McCartney, the late author J.G Ballard and artists Tim Head and Mark Lancaster, who were also students of Hamilton.
Originally broadcast thirty years ago on Channel 4, This is Tomorrow was directed by Mark James, produced by Andrea Cornes and camera by Chris Morphet www.widestreamfilms.com
"Pop Art is Popular (designed for a mass audience), Transient (short-term solution), Expendable (easily forgotten), Low Cost, Mass Produced, Young (aimed at youth), Wicked, Sexy, Gimmicky, Glamorous, Big Business." Richard Hamilton
Richard Hamilton gave birth to the term in 1956 and defined it as above in a now famous letter sent to architects Peter and Alison Smithson in January 1957.
Interior, 1964 - 1965, is an early example of Hamilton's use of screenprint. The print belongs to a group of works based on a film still, discovered by chance, advertising Douglas Sirk's film Shockproof, 1949. Hamilton's early interiors relied heavily on collaging ready-made material from magazines. Hamilton stated, "Every man-made interior space has its own interest; banal or beautiful, exquisite or sordid each says a lot about its owner and something about humanity in general. They can be dreary or warm and touching, on occasion, inspiring; all tell a story and the narrative can be enthralling; some even give us a little lesson in art appreciation."
I'm dreaming of a white Christmas, 1967, is derived from a 1942 film still of Bing Crosby. Using a photographic transfer to make the screenprint, Hamilton was fascinated by the allusive power of the camera's imagery and made a series of images that reversed colour from positive to negative, and back again, following the Duchampian idea that everything has an opposite. My Marilyn, 1965, is a print derived from photographs of the actress Marilyn Monroe which were published shortly after her death. Monroe demanded that the results of all photographic sessions be submitted to her for vetting. In this image she ticked only one photo as acceptable
Hamilton's Braun-inspired work was exemplified in Toaster, 1967, his depiction of a home appliance with accompanying text adapted from Braun advertising brochures. Hamilton commented: "The Marilyn print has it's concomitant in Toaster. It is an early example of the readiness of the modern print to move around, to mix the media: offset litho, screenprint, and in this case collage, not a print medium at all." The theme of the toaster remained with Hamilton throughout his life and in 2008 he made 14 unique three-dimensional versions of the subject.
Fashion-plate, 1969-1970, is related to a group of works entitled Cosmetic Studies featuring photographs of models in fashion magazines. These were explorations towards an unrealised life-size painting of a full-length figure. Using imagery of photographic studio equipment to frame the model's portrait, Hamilton built up collage elements and pochoir (stencilling). Final handmade marks were applied using actual cosmetics.
A Little Bit of Roy Lichtenstein for…, 1964, is an enlarged detail of a screenprinted poster for a Roy Lichtenstein exhibition. Hamilton, an admirer of the American artist, made several negatives of details from the image, enlarging one of them into a screenprint. The peardrop shape, top right, is a tear from the eye of a crying girl; the four parallel strokes, bottom right, are shading on the nose.
The late art critic David Sylvester described Hamilton's preoccupation with mass culture as only one aspect of his obsession with the modern - modern living, modern technology, modern equipment, modern communications, modern materials, modern processes and modern attitudes. Hamilton wanted to relate to everything that was going on in the world around him.
Despite his label as the grandfather or founder of Pop Art, a description the artist often rejected, Hamilton set no limits on subject matter, nor stylistic language of expression. For him, the image was always more important than the rationale of its execution.
If you would like information about all available Richard Hamilton works, please contact us directly via [email protected].
New Book
Modern World: The Art of Richard Hamilton
Modern World: The Art of Richard Hamilton presents a concise introduction to this deeply complex artist. Written from a personal perspective, and covering the full scope of Hamilton's practice, Michael Bracewell discusses the artist's all-embracing work in relation to the music, film, and popular culture of the day in a rich new interpretation of his art and ideas.
£25 plus free shipping within the UK, available online via Art / Books. Click here to order the book.