21 September - 23 October 2021
Julian Opie
We are delighted to announce a major exhibition of new work by Julian Opie (b.1958), which distills and decodes the visual experience of our everyday life. New prints, sculptures, lenticular panels, and 3D models, made over the past year and a half, depict in the artist's refined style built-up environments and the movement of people within them.
Opie's ideas and reference points are drawn from the ancient past to the present. A view from a taxi window, a detail on a decorative railing, figures on a temple frieze or Greek vase, all serve as options and ideas that Opie updates with contemporary technology and materials. "I often look to temples and tombs, the high street and airport, to find the ideas and clues as to how best to make a visual experience powerful and clear."
The first part of the exhibition explores representations of a French village in a variety of media that play with scale, composition, and colour. Six large scale prints, entitled French Village., 2021, lead viewers, frame by frame, through a three-dimensional village. These scenes, reminiscent of early 1980s computer games, and early renaissance experiments in perspective, are displayed alongside smaller representations of flat-fronted houses on varnished boards, that can be combined to create compact streets. A series of four 3D models entitled Bastide., 2021, presented on freestanding plinths, are inspired by fortified medieval towns which were built in France and England in the thirteenth and fourteenth centuries. Opie's village scenes are complemented by a new group of twelve woodcut prints, entitled Apartments., 2021, depicting standard mid twentieth century tower blocks.
At the centre of Opie's process is drawing. The directness and apparent simplicity of his work begins with setting up a camera on Julian Opie a street corner or a traffic island and shooting pictures of his surroundings. Opie has done this in locations all over the world, from small French villages to busy traffic intersections in Tokyo. He uses his camera like a mirror, taking images of what he has seen back to his studio, where he draws the subjects, transferring and flattening them until he captures the essence of our everyday experience of contemporary life. The bold lines and clarity of his work also relate to the artist's interest in Egyptian hieroglyphics, nineteenth-century Japanese woodblocks by Utamaro and Hiroshige, drawings by Vincent van Gogh and cartoons by Hergé.
The second section of the exhibition presents us with depictions of figures, converging pedestrians and city dwellers, captured in different locations and climates. Large scale lenticular panels illustrate figures standing against brightly coloured backdrops, like road signs. Running people are represented by twelve small, anodised sculptures, which are exhibited alongside wall-mounted acrylic reliefs of striding figures, entitled Old Street., 2020, and a group of three small sculptures, entitled Summer Rain., 2020, of scurrying pedestrians in an Asian downpour. A pair of screen-printed acrylic blocks, entitled Day and Night., 2021 and covered on their four sides with silhouettes of walking people, can only be seen fully if the viewer walks around them.
Opie has often used animals in his work, subjects that first engaged him as possible themes from his children's farm games. Small Birds., 2020, a series of multi-coloured acrylic reliefs, focuses on a pigeon, gull, duck, hen, and magpie, birds that share our living space but are generally accepted unthinkingly.
Cristea Roberts Gallery is the exclusive worldwide publisher of Julian Opie's editions.
If you would like to receive advance information about the works in the exhibition or an availability list please contact us directly via [email protected].
Running People., 2020 (set)
A series of 12 anodised aluminium figures on Corian bases
Dimensions vary
Edition of 20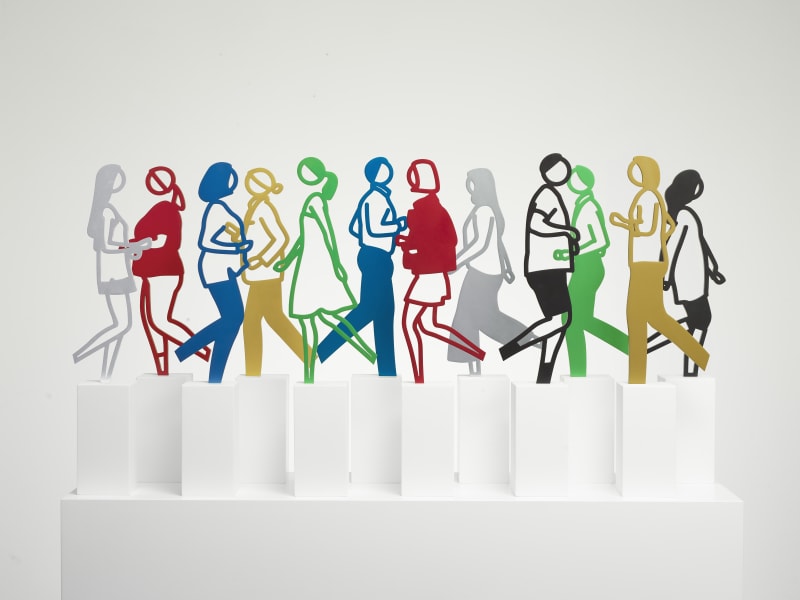 Folder., 2020
Wall mounted acrylic relief
69.1 x 31.7 cm
Edition of 20
Small French Village., 2021
A series of 57 wall mounted MDF reliefs
Various dimensions
Edition of 3
About the artist
Julian Opie (b. 1958)
Julian Opie was born in London in 1958. He studied at Goldsmiths College, London, from 1979 to 1982. Opie uses urban and rural landscapes, as well as moving figures, to bring time-honoured artistic genres into the twenty-first century. His works have been realised in a variety of media including silkscreen, vinyl, LCD, LED, lenticular and flocking, and he continues to push the boundaries of 'traditional' artistic practice. He draws inspiration from both high art, design and the vernacular; lightbox advertising, billboard signs, Japanese Manga, seventeenth and eighteenth-century portraiture, nineteenth-century silhouettes, Roman busts and ancient Egyptian art.
Image: 'Julian' (2013). Archival inkjet laminated to glass and backed with dibond presented in a powder coated aluminium frame designed by the artist