10 December 2021 - 22 January 2022
Discovery and Invention
The Early Graphic Works of Josef Albers
The first major survey of early graphic works by Josef Albers (1888 - 1976), tracing the artist's early printmaking career, beginning with his first explorations of the medium in 1916, whilst teaching in an elementary school, and ending in his final year at Black Mountain College, USA, in 1949.
Almost 50 works on paper will be on show, all of which come directly from the Josef and Anni Albers Foundation, and they feature scenes of domestic animals, local industry, rare self-portraits as well as portraits of his friends. The exhibition will culminate in the first appearance of geometric forms inspired by pre-Columbian architecture. This comprehensive review explores the complex themes and subject matter that shaped the evolution of Albers's work in the first half of the twentieth century, prior to his experimentation with his renowned homages to the square.
Gallery director David Cleaton-Roberts comments; "Josef Albers was a naturally gifted printmaker, who possessed an innate ability to push techniques and materials to new limits. The progression from his first print to his final portfolios was the culmination of a lifetime of complex artistic investigation, an evolution most clearly revealed through the historical arc of his printmaking practice."
Albers first seriously took up printmaking in 1916, at the age of 28. After attending the Royal Art School, Berlin, from 1913 – 1915, he returned home to Bottrop to take up a teaching position. Simultaneously he resumed his studies at the School of Applied Arts in nearby Essen, where he began printmaking via bookplates and greetings cards. He focused on everyday subject matter to produce accomplished linocuts and lithographs depicting local landmarks, such as sand and coal-mines and animals. Using what was available to him during wartime, these graphic works were printed on a variety of papers and on sheets of different sizes. Albers first lithographs were based on dancers he had observed in a ballet entitled The Green Flute in 1916. His portraits from this period include studies of his own striking profile and those of his friends. The soft floating figures from The Green Flute series and his portraits reveal the playful and informal side of Albers' character, as well as his developing fascination with the interplay of two and three-dimensional space.
Albers second period of focused printmaking begins after the Bauhaus closed in 1933, when he arrived at Black Mountain Collage in North Carolina, USA. Brenda Danilowitz, Chief Curator of the Josef and Anni Albers Foundation discusses his prints from this era; "They mark a point of transition from the hard-edged forms and linear geometries associated with his major Bauhaus works in sandblasted glass, which investigated the interplay and exchangeability of figure and ground, to an engagement with evocative line and organic patterns." Now also working in woodcut, Albers delighted in the irregularities of wood grain and cork and the possibilities they lent to printmaking.
Prints made whilst teaching at Black Mountain College were also inspired by Albers frequent visits to Mexico which began in 1935/36. He travelled to archaeological sites throughout the country studying the constructions, the influence of which emerges in his work during the preceding years. As Albers style and themes developed, his prints made in the mid to late 1940s demonstrate his pursuit of linear geometry in a more refined format than ever before. He began using a limited amount of simple ruled lines to create forms that appear to rotate and shift. These later prints share fundamental traits with, and pave the wave for, his Homage to the Square works, which Albers explored in the final decades of his life.
Discovery and Invention: The Early Graphic Works of Josef Albers is accompanied by a fully illustrated hardback catalogue with an introduction by David Cleaton-Roberts and essays by Brenda Danilowitz, Chief Curator, and Jeannette Redensek, Research Curator and Josef Albers Catalogue Raisonné Director, both of the Josef and Anni Albers Foundation. This exhibition coincided with a major show, featuring over 350 objects, entitled Anni et Josef Albers - L'art et la vie (Anni and Josef Albers: Art and Life), which was exhibited at the Musée d'Art Moderne de Paris from 10 September 2021 to 9 January 2022.
If you would like to receive a complete list of all works on show please contact [email protected]
Top image: Josef Albers; Self-portrait, 1916
Film
Discovery and Invention: The Early Graphic Works of Josef Albers
About the Artist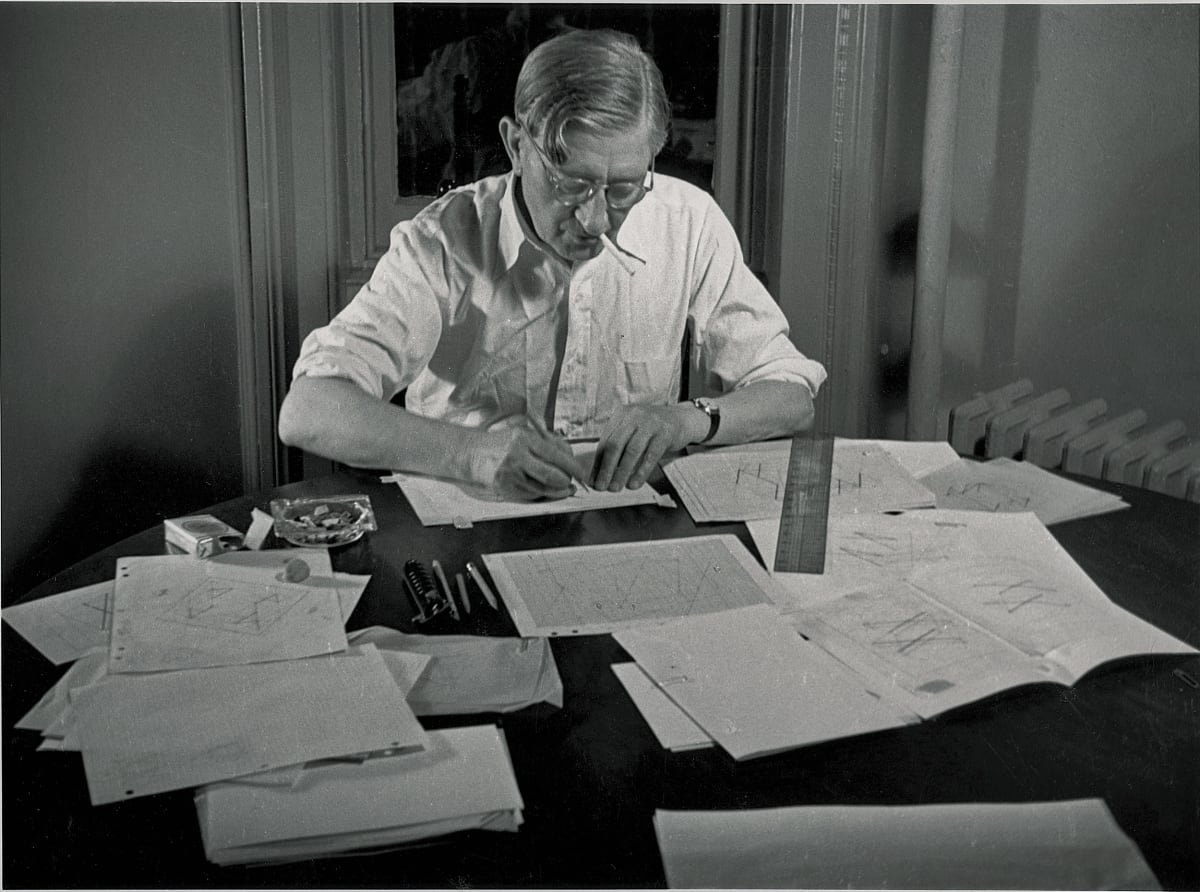 Josef Albers (1888 - 1976)
Josef Albers (1888 - 1976), born in Bottrop, Germany, was one of the most influential and innovative painters and printmakers of the twentieth century. Albers studied briefly at the Königliche Bayerische Akademie der Bildenden Kunst, Munich, in 1919 before becoming a student at the Bauhaus in 1920. In 1922, Albers joined the school's faculty, first working in stained glass and a year later teaching design. By 1933, when pressure from the Nazis forced the school to close, Josef and Anni Albers emigrated to North Carolina, USA, where they founded the art department at Black Mountain College. In 1950 they moved to Connecticut, where Albers was invited to direct a newly formed department of design at Yale University School of Art.
Photo: Josef Albers drawing, New York, 1950, photographed by Rudy Burckhardt.