29 April - 1 June 2022
Synthesis and Tension
Tom Wesselmann's Editions
Cristea Roberts Gallery is pleased to announce a major survey of Tom Wesselmann's (1931-2004) graphic oeuvre, exploring the rich and diverse editions the leading American Pop artist made over the course of his career.
Fifty works on show, dating from 1963 to 1998, made in an astonishing variety of media from silkscreen to cut metal and collage, include Wesselmann's iconic and often provocative depictions of the nude, as well as his many still lifes and occasional landscapes. These rarely exhibited works, which come directly from the Tom Wesselmann Foundation, will be on show from 29 April – 1 June 2022.
During his lifetime Wesselmann continually sought to reinvent the classical themes from the canon of art history; the nude, still life and landscape, using his own distinctive visual language, characterised by a reductive line, and bold, flat primary colours. Like many of his Pop contemporaries, he appropriated source material from advertising, magazines and household products, incorporating these symbols of modern life and pop culture into his work.
References to well-known artworks also appear in his editions, in the form of pared down depictions of paintings by Roy Lichtenstein, Fernand Léger, Henri Matisse and Robert Motherwell. Wesselmann applied this egalitarian approach to his innovative use of materials, as he introduced industrial paint and metals into his practice.
Director David Cleaton-Roberts comments; "Of all the American artists of his generation, it was Wesselmann who most seemed to relish the possibilities afforded by the new technologies at his disposal, using them to disrupt common perceptions about what editions should and could be. In many cases, he intentionally blurred the boundaries between the hand and the machine made, to create editions which defied easy definition."
The early works in the exhibition demonstrate the beginning of Wesselmann's experimentation with various techniques; a large fabric banner; embossed prints which leave only the shape of the object visible; and his use of collage in Bedroom Collage Edition, 1974, featuring the landscape of a New York postcard, next to a breast and an orange. Having started out depicting the entire nude female form, Wesselmann later shifted to disembodied, individual body parts such as the mouth, feet, and breasts, as seen in his series of five hand-painted prints, entitled Bedroom Portfolio, 1978.
The artist also alternated between screenprinting and lithography, sometimes combining both in one work, as seen in Nude (Lithograph), 1976. Almost half of all the editions Wesselmann made were screenprints, a medium which best served the formal qualities of his art. Early screenprints, such as Seascape (Foot), 1968, will be shown alongside later examples of his work in the medium, such as Thames Scene with Power Station, 1990, a monumental screenprint measuring over 2.5 metres in length. This work was the result of a quick sketch by Wesselmann of a chimney, made on a visit to London in 1989. A year later Wesselmann translated this image into a screenprint and steel work.
Over the latter part of his career Wesselmann pioneered the steel-cut technique. He enlarged small doodles, cut them out of steel and aluminium and painted them in vivid colours. These drawings, five of which are displayed in the exhibition, were composed of solid shapes and interior voids, becoming the ideal medium for adapting the clean lines and flattened forms of his prints and paintings. Some editions, such as Tennanah Lake House, 1992, employed colours in Alkyd paint and others were rendered in pure stainless steel, as seen in a rare self-portrait made in 1986.
Synthesis and Tension demonstrates Wesselmann's constant desire to push the boundaries of what a chosen medium could offer, particularly in his later use of cut metal. As his chosen subject matter came to be executed across a range of different media, he also pushed the iconography to new limits.
Cristea Roberts Gallery is the exclusive worldwide representative for the prints and metal cut-out editions from the Tom Wesselmann Estate.
If you would like to receive a preview of all works in the show, please contact the gallery via [email protected].
Top image: Bedroom Blonde, 1997
Exhibition catalogue
Exhibition catalogue
This new publication (96 pages with 65 illustrations) which presents all the works in the exhibition, also includes an essay by Annabelle Ténèze, Director of les Abattoirs, Museum of Modern and Contemporary Art-FRAC Occitanie, Toulouse and a short text by David Cleaton-Roberts, Director of Cristea Roberts Gallery.
About the Artist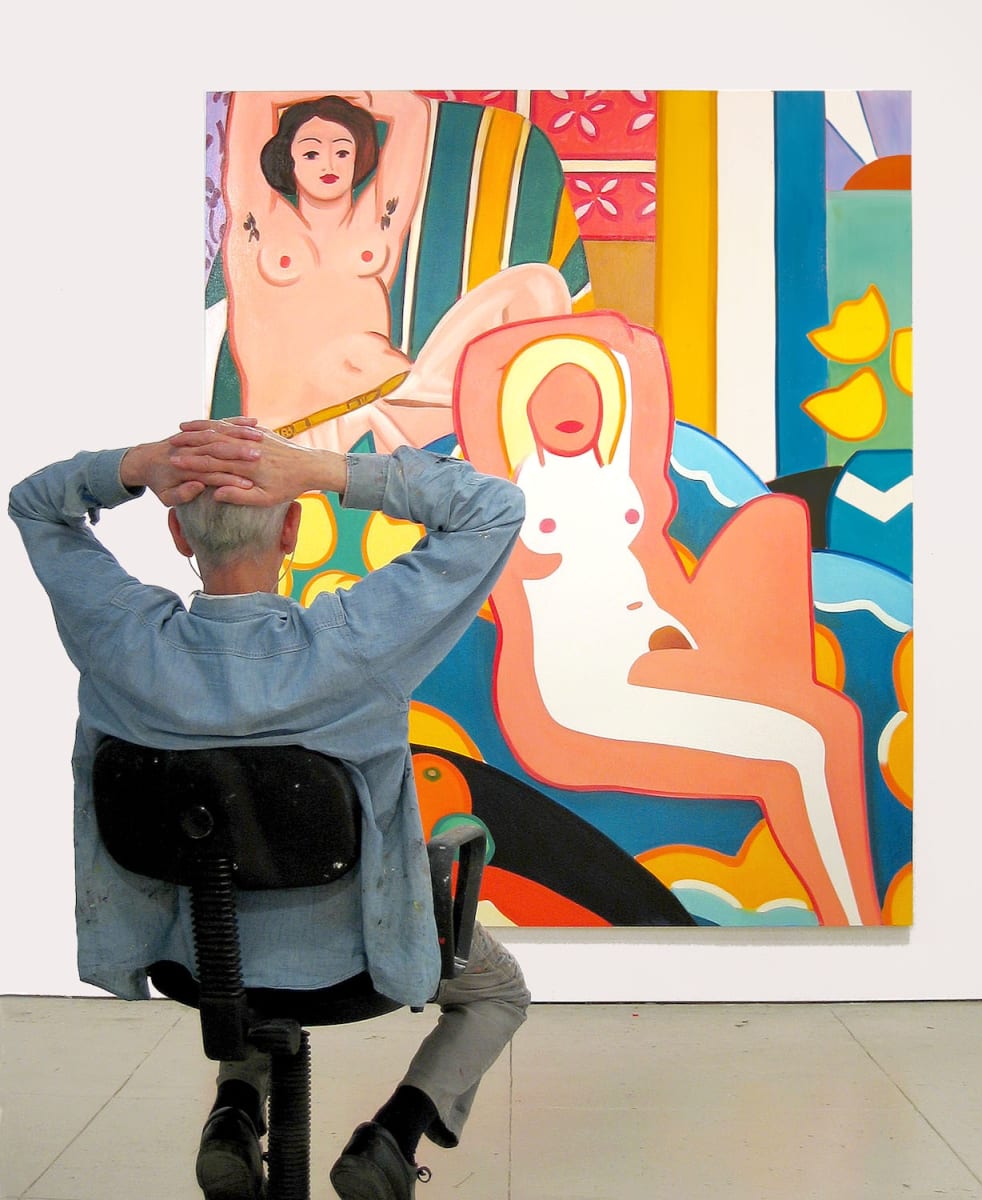 Tom Wesselmann (1931 - 2004)
Tom Wesselmann (1931 - 2004) was born in in Cincinnati, Ohio, USA. He attended Hiram College in Ohio from 1949 to 1951 before entering the University of Cincinnati. After graduation he moved to New York, to study art at Cooper Union, receiving a diploma in 1959. Wesselmann had his first solo exhibition, which featured the first collages from his Great American Nude series, in 1961 at Tanager Gallery, New York. Wesselmann's works are included in numerous museum collections including Musée d'Art Moderne et d'Art Contemporain, Paris; Museo Thyssen-Bornemisza, Madrid; Nationalgalerie, Berlin; Berardo Collection, Lisbon; Museum of Modern Art, New York; Whitney Museum of American Art, New York
Image: Tom Wesselmann in his studio in New York © The Estate of Tom Wesselmann