11 November 2022 - 21 January 2023
Jim Dine
A History of Gardening
"Even when I wasn't gardening, I was thinking about it and about plants. I've always thought about plants, and not just edible ones. I thought about flowers and trees. It goes back to a when I was a boy in Ohio."
A History of Gardening, an exhibition exploring botanical prints and drawings by Jim Dine (b. 1935), one of America's most prolific artists, will be displayed at Cristea Roberts Gallery from 11 November 2022 – 21 January 2023. Plants and flowers have long been an enduring theme in Dine's work, holding a deep personal significance for the artist, who first tended tulips with his grandmother as a young boy. Over forty works dating from 1976 to the present day, in a wide variety of mediums, including a new body of hand-coloured editions, will be exhibited.
"Even when I wasn't gardening, I was thinking about it and about plants. I've always thought about plants, and not just edible ones. I thought about flowers and trees. It goes back to a when I was a boy in Ohio." Dine has been interested in gardening ever since he worked with his grandmother, Rachel Cohen, to grow vegetables and flowers in their back garden in Ohio. Dine has honoured this memory in the titling of several works over the years. For a new edition, Rachel Cohen's Flags Version IV, 2022, which will be unveiled for the first time, six joined sheets depict rows of bursting violets, made using drypoint, electric tools, and hand painting in oil and charcoal.
Dine has gardened his entire life; his current home in Paris includes a small plot where he grows roses and potatoes. In the 1970s and 80s when he lived in Vermont, Dine found inspiration in the state's lush gardens and vegetation. For years he has worked from his studio in Walla Walla, Washington, where he draws wild grasses, weeds and thistles from life, out in the fields.
Dine also draws inspiration from the history of botanical illustration. For many decades he has been fascinated with the subject, which was further enhanced by his friendship with the late botanical artist, Rory McEwen (1932–82). Through McEwen, Dine discovered other great botanical illustrators, from Leonhart Fuchs (1501 - 1566) to Georg Dionysius Ehret (1708–70), whose detailed and precise depictions have influenced his work. Dine's interest goes beyond the science of plants, as he seeks to convey the drama of botany. He approaches each subject, not as a scientific experiment, but as a living and breathing model, finding pleasure and romance in the act of drawing fauna and flora.
No single approach characterises Dine's botanical works. Lilies, tulips, sunflowers, daisies, irises, peppers, chillies, tomatoes, artichokes, reeds, bulbs, and weeds appear in different stages of bloom and growth and are depicted in a wide variety of mediums. Some forms are precisely observed, such as Roses, 1978, a drypoint print, whilst others seem to be in motion, seen from every angle at once, such as Two British Vases, 2013. In the oil painting, The Risk of Correction, 1992, Dine conveys the dense layering of dark green leaves and in his etching, Blue Vase, Yellow Flowers, 1993, stems sprawl out in every direction.
A series of ten extensively hand-painted prints, The History of Gardening, 2002, also featuring annotations by Dine, will be exhibited alongside a recent triptych, Astonishing, Health and Sunshine, 2021. A celebration of this magnificent life form that continues to occupy the artist's mind, the works are bursting with a colourful variety of flowers, plants, fruit and vegetables.
The delicacy of some drawings, such as the lithograph, Sunflower, 2011, suggest the transience of nature too; it's growth and decay. A close observer of these, now old and familiar objects, Dine, in his 87th year, continues to draw this very personal subject matter, which he describes as 'objects to dream about', with continuing vigour and intensity. In his new hand-coloured editions, including The Rage of Leaves, 2022 and Black Kyoto, 2022, exhibited for the first time, plants appear to burst with life as they sprawl across the paper surface.
Jim Dine: A History of Gardening is accompanied by a fully illustrated catalogue, with a text by author and art historian, Martin Gayford.
If you would like to receive a complete list of works in the exhibition please contact [email protected]
The exhibition will be closed from 24 December 2022 - 6 January 2023.
Top image: Detail from Rachel Cohen's Flags Version IV (3), 2022
"As an artist, I couldn't care less whether the subject is a food plant, a flower, or a weed. It depends on what strikes me. I guess I wouldn't be so interested in rendering iceberg lettuce, for example, as opposed to a beet. It's the form, the sculpture that counts. I have certain favourite things, such as the thistle, an artichoke, or a jade plant – Crassula ovata is its Latin name – succulent plants are really interesting to draw."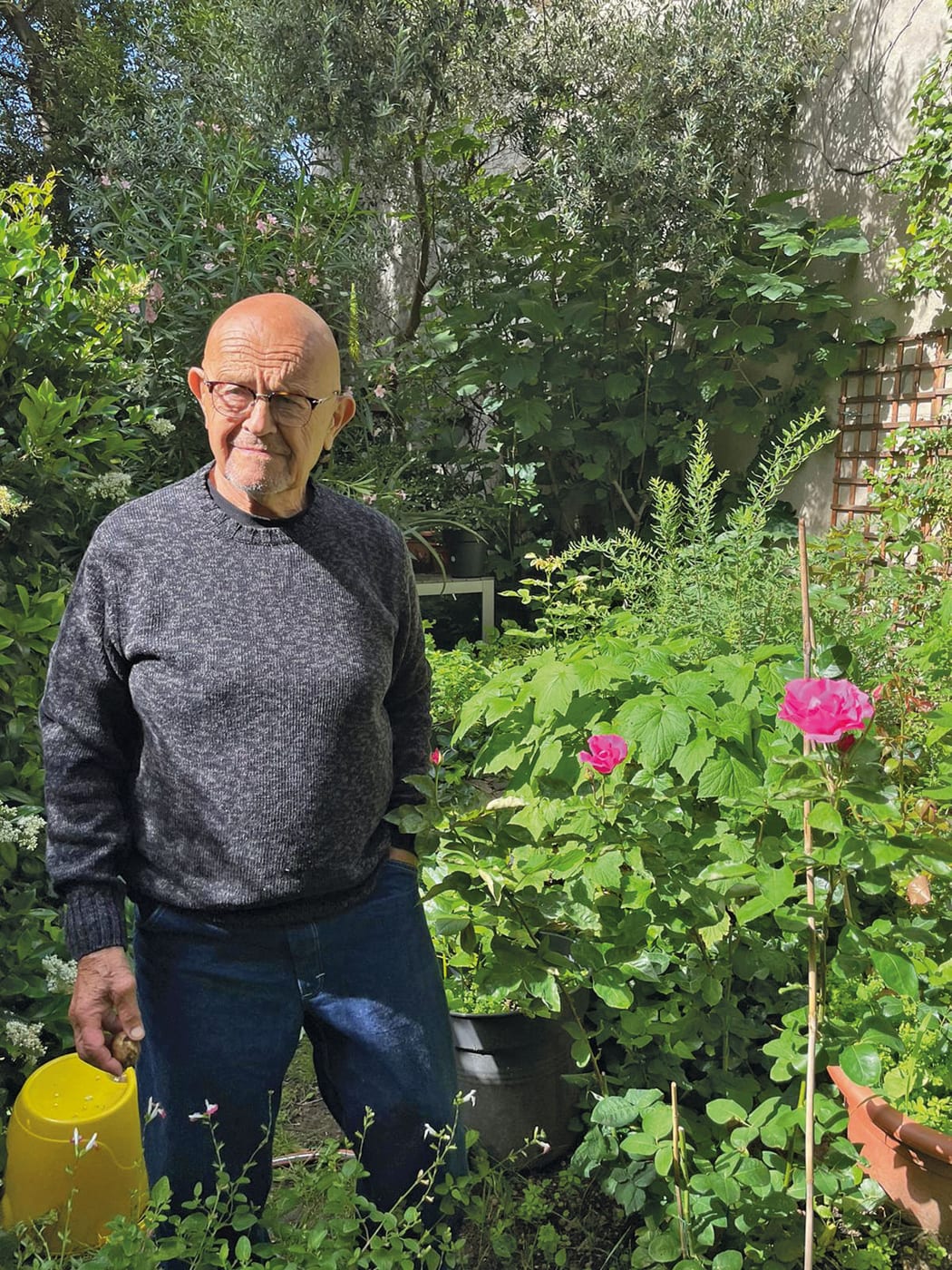 "They are a living thing to draw from. I always felt that, and I felt that the challenge of drawing and depicting them was as great as the human figure. Sometimes more interesting."
- Jim Dine
Image: Jim Dine in his garden in Paris, July 2022. Photo: Daniel Clarke
If you would like to receive a complete list of works in the exhibition please contact

[email protected]