27 January - 4 March 2023
Image as Protest
Joy Gerrard & Paula Rego
Image as Protest brings together two powerful bodies of work by Joy Gerrard (b. 1971) and Dame Paula Rego RA (1935 - 2022), centred on women's rights, that highlight different ways in which protest can be manifested.
Several new drawings by Joy Gerrard of protest crowds, including those in the US demonstrating against the repeal of Roe v Wade - the ruling that ended abortion access nationwide - and the massive protests in Berlin in support of women in Iran, will be shown alongside Paula Rego's seminal abortion series. Conceived over twenty years ago to campaign for the legalisation of abortion in Portugal, Rego shows women undergoing illegal backstreet operations. Further prints by Rego, explicitly dealing with violence against women, including sex trafficking and female genital mutilation (FGM), will also be displayed.
Over the last decade Joy Gerrard has worked in numerous different mediums to make art that maps crowd movement through urban spaces and that explores the new era of mass protest in Europe and the US. Choosing to work in monochrome, using black Japanese ink, she painstakingly recreates images of political demonstrations.
New drawings, seen for the first time, feature aerial views of crowds marching on Boston, New York and Philadelphia in summer 2022, days after the US Supreme Court repealed Roe v Wade, ending federal abortion rights for approximately 21 million women. New works also depict scenes of the 80,000 people who marched in Berlin, in October 2022, to stand up against oppression and discrimination in Iran, a movement sparked by the death of a young woman killed whilst in the custody of Iran's 'morality police'.
Barrier, 2021, a free-standing painted screen by Gerrard measuring 8 x 2 metres, reproduces a helicopter view of the Sisters Uncut protest in 2021 that moved through central London from Scotland Yard to Westminster after the Clapham Common vigil for Sarah Everard, a young woman abducted and murdered by a police officer.
The protest depicted is small; in contrast to many of Gerrard's other crowds, it does not fill the streets but is dominated by the surrounding architecture and contained by lines of police. Viewed from a surveillant height, the crowd, at around a thousand people, appears vulnerable.
The event itself controversially blurred the distinction between protest and vigil for the loss of Everard's life, generating troubling media coverage of young women protesting violence being physically restrained during arrest. Importantly for the subjects of Gerrard's work, the Sarah Everard protest also marked a moment overshadowed by a new and disputed UK Police Bill, the intent of which was to radically increase state powers to control public demonstrations.
The painted image on Barrier is divided and folded across the screen. Acting as a barricade in the gallery space, the viewer must move around it to see the whole scene. Gerrard is interested in how people attempt to make their opposition to an event, or a law, or a political change, visible in the public realm. Her reconstruction of these momentous events, preserves them in time, ensuring they remain visible once lost in our rapidly changing news cycles.
Whereas Gerrard's drawings depict the act of open, collective, political action, Rego's etchings offer a direct and personal view of the woman's or girl's experience.
Born in Portugal, Paula Rego is one of the most important figurative artists of her generation, presenting through her work, a world shaped by patriarchal power. In 1998 a referendum to legalise abortion in Portugal failed. Rego, who has spoken openly about her own abortions in the past and had seen people suffer after undergoing illegal terminations, was angry with the outcome. In response, she created a body of paintings, pastels and etchings.
The etchings (Untitled 1 – 8, 1999 – 2000), which appeared in several Portuguese newspapers in the lead up to a second referendum on abortion in 2007, brought the debate back to women's experience, drawing attention to the dangers of making abortion illegal. Rego depicts the women in domestic surroundings, suggesting that theirs are illegal backstreet abortions. Their bodies and faces are contorted in pain, but the women remain stoic and strong, defiant in their right to choose to terminate their pregnancies regardless of whether the church and state approve.
The effect of the series was so powerful that it has been credited with helping sway public opinion to form a second referendum in 2007 which legalised abortion. In 2020, disappointed and appalled that after so much suffering endured by women, abortion continues to be criminalised around the world, Rego produced a further two prints on the subject matter, which will also be on display.
Whilst the abortion series depicts women in postures of abjection, endurance, and defiance, Rego's later prints focusing on sex trafficking and female genital mutilation (FGM) - the intention to alter or injure female genital organs - present scenes reminiscent of folk tales.
Works by Rego that address trafficking (Death Goes Shopping, 2009-2010 and Little Brides with their Mother, 2009-2010) show the figure of Death salivating whilst shopping for eligible young girls. Some of the girls have been loaded onto carts, some are having their teeth inspected, like horses, and others are chained together at their ankles. The violence and cruelty seen in the works addressing FGM, take place in the darkness of night (Circumcision, 2009 and Night Bride, 2009); faces are distorted by pain, motionless children are trapped and held down on to make-shift surgical tables.
At a time when social inequalities have been thrown into sharp relief by recent world events, their work serves as a provocation to continued and greater action.
If you would like to receive a complete list of works in the exhibition please contact [email protected]
Film
Image as Protest: Panel Discussion Joy Gerrard | Ingrid Swenson | Nick Willing | Chaired by Hettie Judah
This public discussion explored the societal role of art and the power of art to change a narrative. Featuring artist Joy Gerrard; curator and writer Ingrid Swenson;…
"I arrived in New York from Ireland on the 24th of June as the fall of Roe versus Wade broke across news channels. Earlier in the summer I had visited Washington and participated in huge protests prompted by the media leak. The shock and deep anger of the protesters was visceral and very moving. The new images I am making aim to depict the strength of feeling and emotional force of this immediate mobilization."
- Joy Gerrard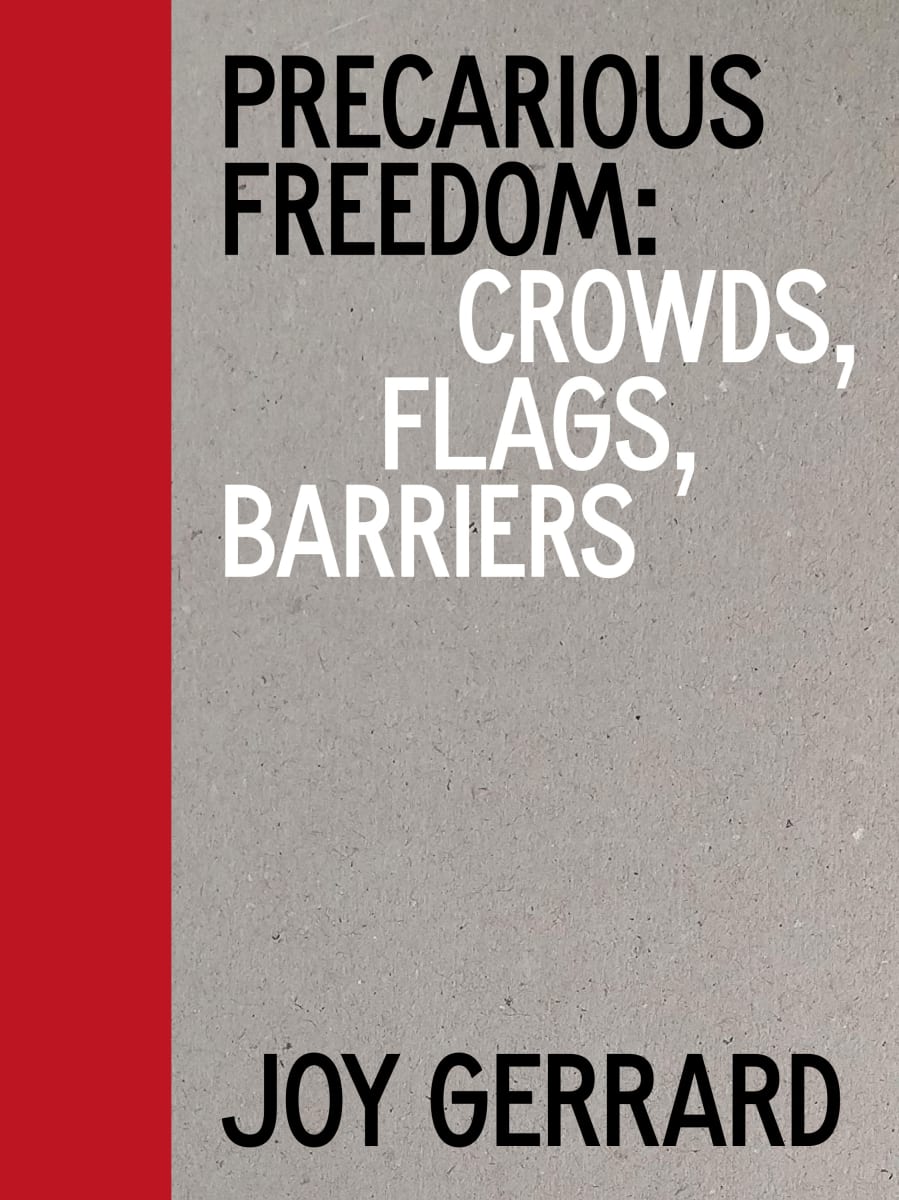 Joy Gerrard Precarious Freedom: Crowds, Flags, Barriers
Hardback catalogue about Joy Gerrard's art and recent touring exhibition entitled Precarious Freedom: Crowds, Flags, Barriers. Featuring texts by Aoife Ruane, Ingrid Swenson and Ekow Eshun, the book is published by Highlanes Gallery, Ireland.
£ 20.00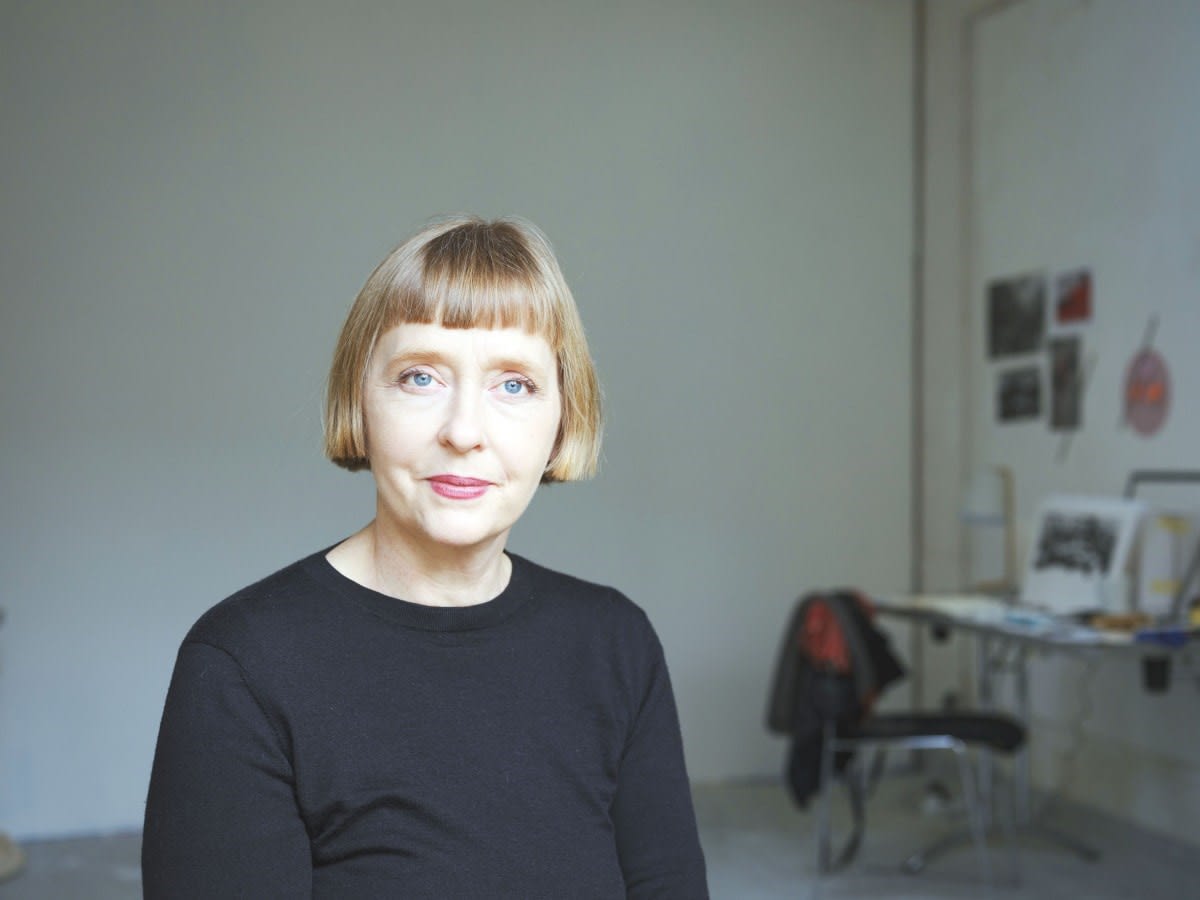 Joy Gerrard
Joy Gerrard was born in Dublin, Ireland, in 1971. She graduated with a BA in Fine Art from the National College of Art and Design, Dublin, and an MA and MPhil from the Royal College of Art, London. Recent solo and group exhibitions include Royal Academy of Arts, London (2022); Ulster Museum, Belfast (2022); Highlanes Gallery, Drogheda, travelled to Butler Gallery, Kilkenny and Galway International Arts Festival, Ireland (2021/2022); Glucksman Gallery, Cork (2020).
Joy Gerrard in her studio. Photo: Conor Horgan
"It highlights the fear and pain and danger of an illegal abortion, which is what desperate women have always resorted to. It's very wrong to criminalise women on top of everything else. Making abortions illegal is forcing women to the backstreet solution."
- Paula Rego, 2019
Paula Rego An Enduring Journey: A Life in Print
Fully illustrated hardback catalogue published to accompany the exhibition Paula Rego: An Enduring Journey, 2021. Featuring an essay by Sophie Lindo, a list of works, and a biography of the artist.
£ 20.00
Paula Rego
Paula Rego was born in Lisbon in 1935. After attending finishing school in Kent, England, she studied at the Slade School of Art in London between 1952–56. Rego came to prominence in Britain after her first major solo exhibition at the Air Gallery, London, in 1981 and subsequently at the Serpentine Gallery, London in 1988, which was followed by her becoming the first National Gallery artist in residence in 1990. She was celebrated in a major retrospect at Tate Briain, London in 2021.
Paula Rego in her studio. Photo: Nick Willing
If you would like to receive a complete list of works in the exhibition please contact

[email protected]