Paula Rego (1935 - 2022) was born in Lisbon, Portugal. After attending finishing school in Kent, England, she studied at the Slade School of Art in London between 1952-56. In 1957 she returned to live in Portugal with her husband, the painter Victor Willing, and their three children, before finally settling in London in 1963. Rego came to prominence in Britain after her first major solo exhibition at the Air Gallery, London, in 1981 and subsequently at the Serpentine Gallery, London in 1988, which was followed by her becoming the first National Gallery artist in residence in 1990.

Rego explored themes of power, rebellion, sexuality and gender, grief and poverty, often through female protagonists. One of the most important figurative artists of her generation, her work ranges from painting, pastel, and prints to sculptural installations.

Rego made her first prints, experimenting with etching in the 1950s, at the Slade School of Art. In the 1980s she began to focus more closely on the medium and has since produced a profound body of work as a printmaker, including her coveted series The Nursery Rhymes, 1989, a group of over 30 etchings that are housed in major museum collections all over the world. From 1991 to 1996 the Arts Council of England and the British Council toured this body of work to venues in the UK, USA, Spain, Portugal and Asia. Her prints not only possess the extraordinary imaginative power of her paintings, but reflect the innovative possibilities of the medium through her experimentation with etching, lithography and aquatint, often employing hand-colouring in the process.

Amongst her numerous awards and honours, Rego represented Britain and Portugal at the São Paulo Biennale and received honorary doctorates from Oxford and Cambridge Universities and from the Rhode Island School of Design in the US. In 2010 she was made a Dame of the British Empire and won the MAPFRE Foundation Drawing Prize in Madrid. In 2016 she was elected a Senior Royal Academician and in 2019 she received the Portuguese Government's Medal of Cultural Merit. In 2017 the BBC broadcast a documentary, Paula Rego: Secrets and Stories, directed by Rego's son, Nick Willing, which provided a unique insight into the artist's life and work.

In 2006 the Portuguese government commissioned a museum dedicated to Rego which opened in 2009. The Casa das Histórias Paula Rego, located in a district outside Lisbon, permanently houses Rego's entire collection of over 200 prints alongside drawings, preparatory works and paintings loaned by the artist. Rego exhibited an extensive display of sculptural installations, pastels and prints in the main exhibition of the Venice Biennale 2022.

Major solo exhibitions of Rego's work have recently taken place at The National Gallery, London (2023); Pera Museum, Istanbul; Kestnergesellschaft, Hannover; Arnolfini, Bristol (2022); Tate Britain, London, travelling to Kunstmuseum den Haag, Netherlands, Museo Picasso Málaga, Spain (2021-22); the Irish Museum of Modern Art, Dublin, which toured from the Scottish National Gallery of Modern Art, Edinburgh and MK Gallery, Milton Keynes (2019-2020); Musée de L'Orangerie, Paris (2018); La Virreina Centro de la Imagen, Barcelona (2018); Jerwood Gallery, Hastings (2017); Pallant House, Chichester (2017).
Prior to this Rego was accorded solo exhibitions and retrospectives at the Gulbenkian Foundation, Paris (2012); Museo Nacional Centro de Arte Reina Sofía, Madrid, which toured to the National Museum of Women in the Arts, Washington, D.C; (2007); Serralves Museum, Porto (2004); Tate Britain, London (2004); Abbot Hall Art Gallery, Kendal and the Yale Center for British Art, Connecticut (2001); Dulwich Picture Gallery, London (1998); Tate Liverpool (1997); National Gallery, London (1991); Fundação Calouste Gulbenkian, Lisbon (1988); Serpentine Gallery, London (1988). Her work is housed in major public and museum collections all over the world.
Cristea Roberts Gallery is the worldwide representative for original prints by Paula Rego.
Paula Rego died aged 87 years on 8 June 2022, at her home in North London.
The importance of Paula Rego's powerful Abortion Series
In 1998 a referendum to legalise abortion in Portugal failed. Paula Rego, who spoke openly about her own abortions in the past and had seen people suffer after undergoing illegal terminations, was angry with the outcome. In response, she created a body of work, including paintings, pastels and etchings.
Her eight etchings, which appeared in several Portuguese newspapers in the lead up to a second referendum on abortion in 2007, brought the debate back to women's experience, drawing attention to the dangers of making abortion illegal. The effect of the series was so powerful that it has been credited with helping sway public opinion to form a second referendum in 2007 which legalised abortion.
The power and pain conveyed in these etchings seem only too relevant today.
"It highlights the fear and pain and danger of an illegal abortion, which is what desperate women have always resorted to. It's very wrong to criminalise women on top of everything else. Making abortions illegal is forcing women to the backstreet solution." Paula Rego in an interview with The Guardian, 2019.
"It seems unbelievable that these battles have to be fought all over again. It's grotesque."
In 2019 Paula Rego was interviewed by The Guardian about the dangers facing poor women who may seek illegal abortions as a result of bans.
Cristea Roberts Gallery Podcast
Making a Mark with Paula Rego
The latest episode of our podcast series, Making a Mark, explores the graphic work of Dame Paula Rego RA (b. 1935), one of the most important figurative artists of h…
Films
Image as Protest: Panel Discussion
Joy Gerrard | Ingrid Swenson | Nick Willing | Chaired by Hettie Judah
This public discussion explored the societal role of art and the power of art to change a narrative. Featuring artist Joy Gerrard; curator and writer Ingrid Swenson;…
Book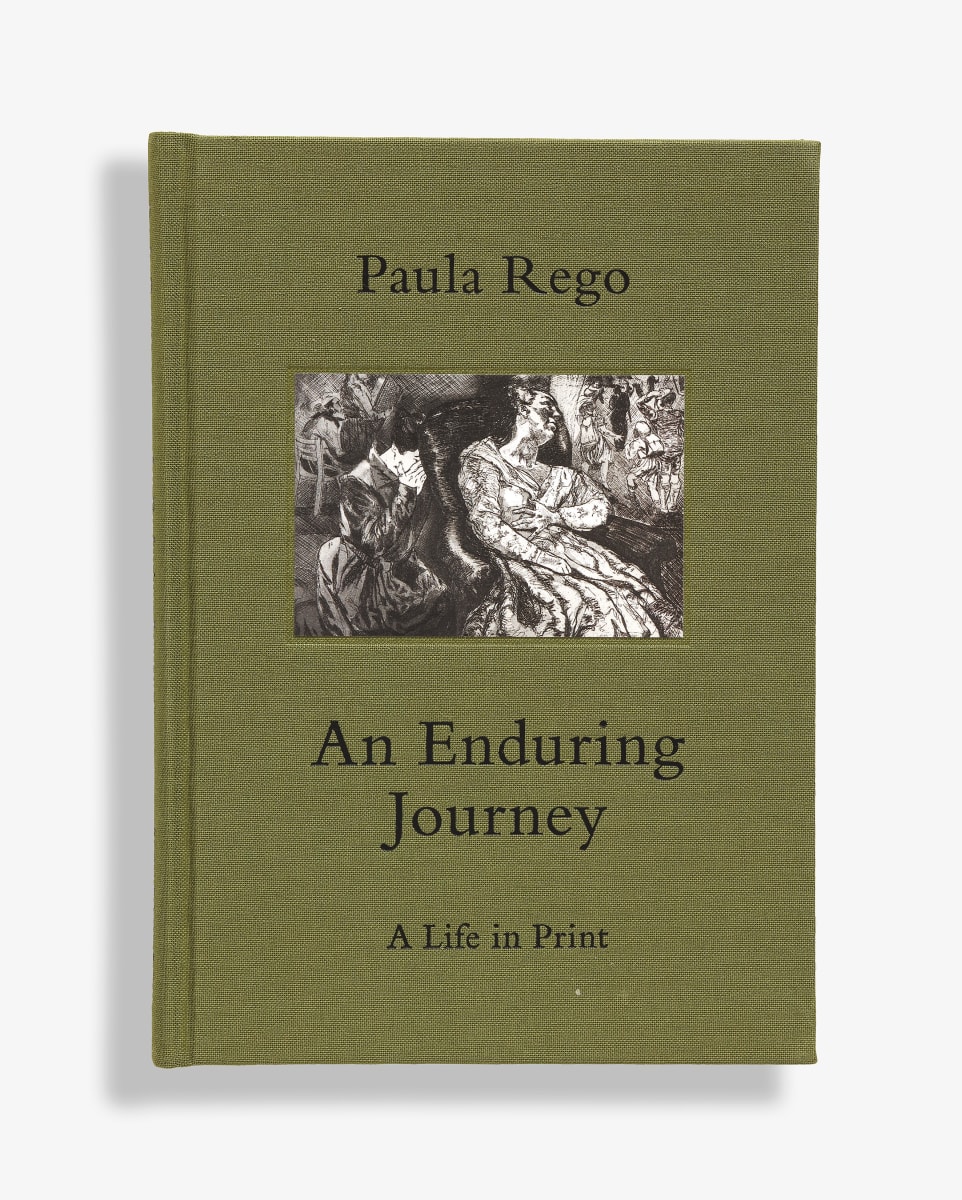 Paula Rego An Enduring Journey: A Life in Print
Fully illustrated hardback catalogue published to accompany the exhibition Paula Rego: An Enduring Journey, 2021. Featuring an essay by Sophie Lindo, a list of works, and a biography of the artist.
£ 20.00
News, Events and Museum Exhibitions
Exhibitions at Cristea Roberts Gallery