Joy Gerrard was born in Dublin, Ireland, in 1971. She graduated with a BA in Fine Art from the National College of Art and Design, Dublin, and an MA and MPhil from the Royal College of Art, London.
Gerrard makes Japanese ink drawings and paintings that investigate the physical and psychological relationships between humans and buildings. She archives and painstakingly recreates images of political demonstrations from around the world. These mass marches, sourced from the media, include Trump Resistance, Occupy movement, Arab Risings, Black Lives Matter, Women's March amongst many more.
Works by Gerrard were exhibited at Cristea Roberts Gallery in the exhibition Protest and Remembrance in 2018. Other recent exhibitions include Highlanes Gallery, Drogheda (2021); Golden Thread Gallery, Belfast (2020); Glucksman Gallery, Cork (2020); Ormston House, Stockholm (2019); Wexford Arts Centre (2018); Royal Hibernian Academy, Dublin (2017); Drawing Room, London (2017); MAC International, Belfast (2016); Hayward Gallery Touring show (2016); and Peer UK, London (2015). Gerrard was the Centre Culturel Irlandais artist in residence in Paris in Spring 2020.
She has installed numerous commissions including major works for Facebook and Tideway in London (2017/18); Chelsea and Westminster Hospital (2012); and the London School of Economics (2009). Her work is held in many private and public collections including The Museum of Central Finland, Jyvaskyla, Finland; the Arts Council of Ireland; the Crawford Gallery, Cork; the Glucksman Gallery, University College Cork; and Il Bisonte International Centre of Graphic Art, Florence, Italy; and Bristol Museum & Art Gallery (presented by the Contemporary Art Society).
Joy Gerrard lives and works in Belfast, Northern Ireland.
Online Viewing Room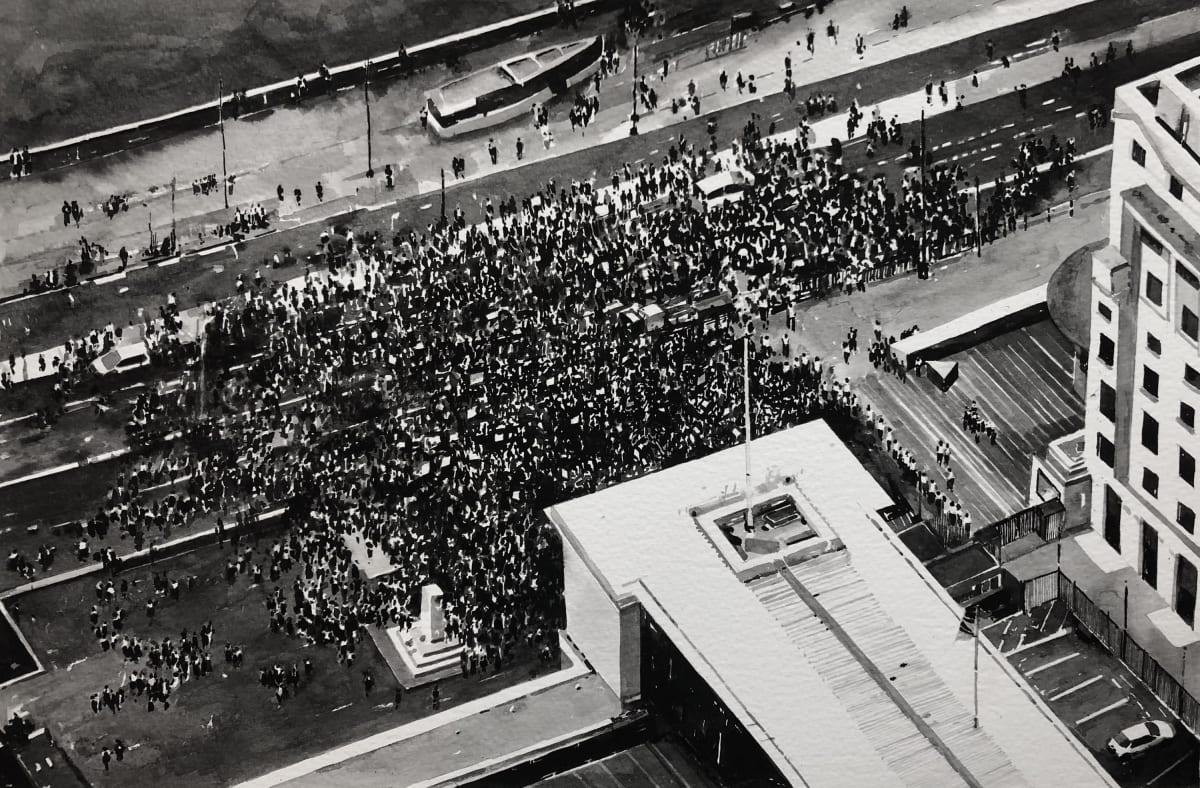 Joy Gerrard: Image as Protest
Explore four drawings by Joy Gerrard which depict protest scenes around women's safety and women's reproductive rights.