Georg Baselitz was born Hans-Georg Kern in 1938 in Saxony, an area that later became part of East Germany. In 1956, whilst studying painting at the Academy of Art in East Berlin, he was expelled for 'political immaturity' for not having conformed to DDR standards in art. He then enrolled at the Academy in West Berlin completing his studies in 1962. During this period he adopted the surname Baselitz, reflecting his birth place, Deutschbaselitz. His first solo exhibition took place in 1963 in Berlin amid controversy when several of his paintings were confiscated by the German authorities on the grounds of public indecency.
In the mid-1960s Baselitz embarked on a series of paintings depicting monumental male figures which he described as Rebels, Shepherds or A New Type ('Ein neuer Typ'). Viewed within the Romantic tradition, the rebel is often regarded as an outsider associated with the figure of the artist. These paintings are referred to as the 'Hero' ('Helden') series and were influenced by Italian Mannerist prints which Baselitz saw on a scholarship to Florence in 1965. Four years later, Baselitz introduced what became the signature motif for the next 50 years, depicting all his imagery upside down. During the 1980s and early 1990s, his work became denser and more heavily worked.
A prolific printmaker, Baselitz engages with various technical processes, working extensively in woodcut, linocut and etching. He describes the resistant qualities of copper plates, wood blocks and linoleum blocks as creative forces in his art and has referred to prints as having "symbolic power which has nothing to do with a painting." He is also known for distinctive printed surfaces created with oil paint rather than traditional printer's ink. As well as having his own printing press, Baselitz favours working with a selection of leading print studios and master printers to realise his graphic works.
Baselitz established his international reputation with exhibitions at the Venice Biennale 1980 and Documenta 1983. Solo exhibitions and retrospectives include Kunstmuseum, Basel (2018); Beyeler Foundation, Basel which travelled to Hischhorn Museum, Washington D.C. (2018); CAFA Art Museum, Beijing; Fire Station, Doha (2017); Tate Modern London (2015); Kunsthalle Baden-Baden (2009); Royal Academy of Arts, London (2007); Louisiana Museum, Copenhagen (2006); Neue Nationalgalerie, Berlin (1996); Guggenheim Museum, New York (1995); Bibliothéque Nationale, Paris (1990) and Whitechapel Art Gallery, London (1983). His paintings, sculptures and prints are in the collections of major museums around the world.
Georg Baselitz lives and works in Basel, Switzerland; Lake Ammersee, Germany; and Imperia, Italy.
Books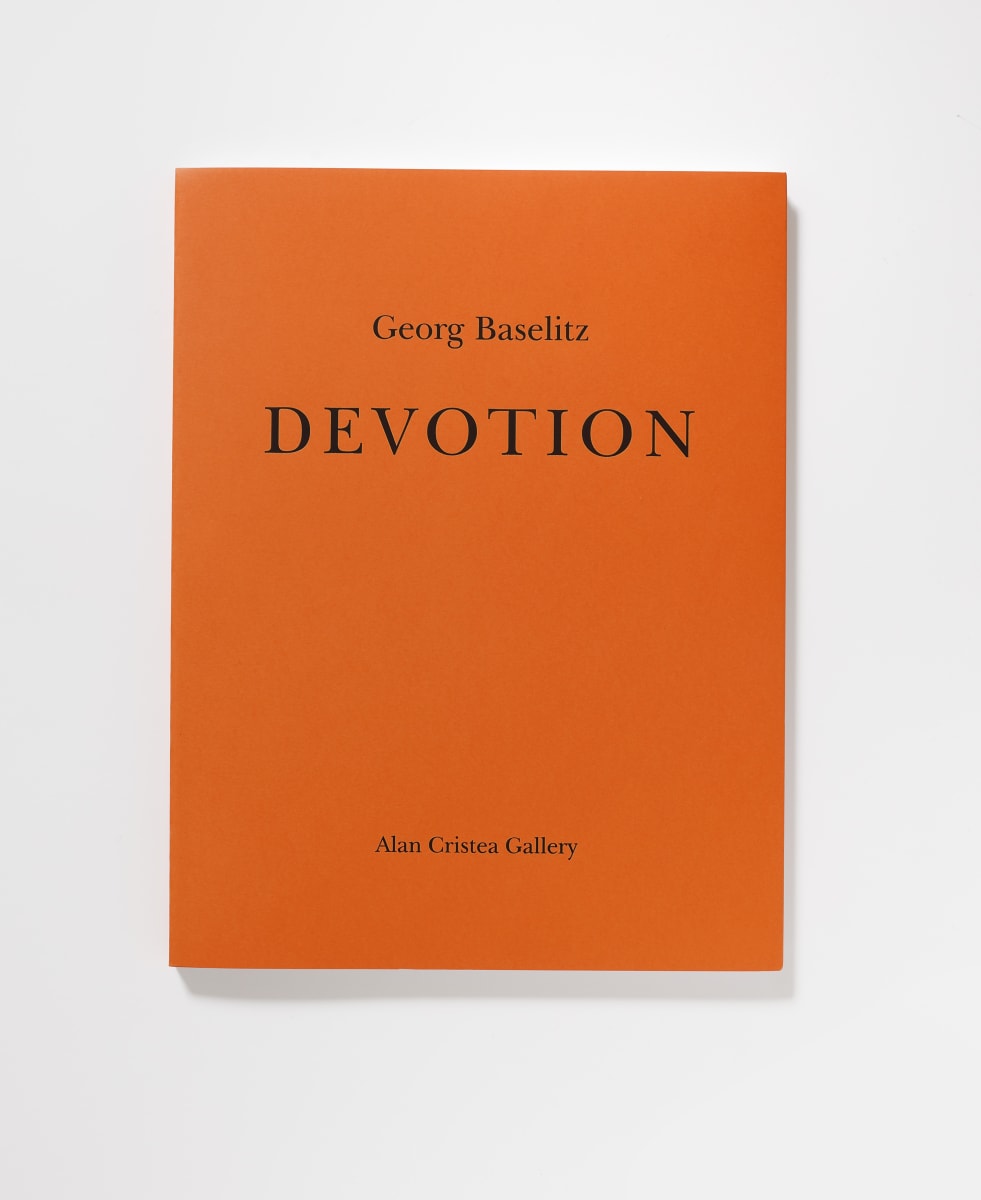 Georg Baselitz: Devotion
Exhibition catalogue
This catalogue was published to accompany the exhibition Georg Baselitz: Devotion, held at the gallery in 2019. The fully illustrated publication features an introduction by Director Alan Cristea and an essay by Georg Baselitz in both German and English.
£30.00
Click here to buy
Georg Baselitz: Hands
Exhibition catalogue
This catalogue was published to accompany the exhibition Georg Baselitz: Hands, held at the gallery in 2021. The fully illustrated publication features a foreword by Director David Cleaton-Roberts and an essay by psychoanalyst and author, Darian Leader.
£30.00
Click here to buy
Exhibitions at Cristea Roberts Gallery